Flood relief effort in Pakistan

[donation booth is closed, thank-you for your visit.]
The donations totalled-up 398.25 euros which where sent to Pakistan on 29/09/2010 for 43304,56 PKR.

Thanks for your generosity.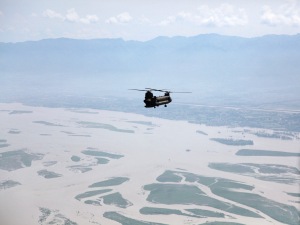 Flood relief effort in Pakistan
You can help
It's all over in the news, you are already aware of the gargantuan magnitude of the flood disaster that has struck Pakistan.

1500 people killed, 20 million people so far have been affected by this super flood which spans all four provinces of the country.
Everyone here is trying to help in any way they can so I am trying to help my fellow citizens too and am collecting funds and goods for the cause.

20 million people are now homeless, all of them, including 3.5 million children, now threathened by cholera and other deadly diseases (dysentery, malaria, dengue fever, typhoid), 900,000 homes damaged 80% of food reserves are washed away, 558000 hectars of farm land under water wasting crops worth over a billion dollars, 8 million people in need of urgent food and water supplies, fifth of the country is submerged by floodwaters. (statistics 19/08/2010, getting worse every day, source 1, source 2, source 3, source 4, source 5)

It's Ramadan and millions of the flood affectees are barely getting enough of their daily food! So give your charity for this holy month to the flood victims.

Want to be impressed ? Have a look on this series of photos, from which the selection below is extracted:

| | |
| --- | --- |
| | |
| A man marooned by flood waters, alongside his livestock, waves towards an Army helicopter for relief handouts in the Rajanpur district of Pakistan's Punjab province on August 9, 2010. (REUTERS/Stringer) – their © all rights reserved | Nadia, who does not know her age, sits alongside siblings after they were rescued from rising floodwaters in Baseera, a village located in the Muzaffargarh district of Pakistan's Punjab province, August 10, 2010. (REUTERS/Adrees Latif) – their © all rights reserved |
| | |
| A man wades through flood waters towards a naval boat while evacuating his children in Sukkur, located in Pakistan's Sindh province August 8, 2010. (REUTERS/Akhtar Soomro) # – their © all rights reserved | Youths affected by floods walk outside the ruins of their home which was washed away by heavy floods in Charsadda, northwest Pakistan, Monday, Aug. 9, 2010. (AP Photo/B.K. Bangash) # – their © all rights reserved |

With a French colleagues who provide his technical resources and expertise, I decide to set-up this fundraising platform, where I will let you download movies, music, photos and other works of art.
A lot of companies sell music and video on the web… So why not?
This platform has been set-up with zero cost (thanks internet), except the fee of the money collect and transfer (paypal and Western Union). So all the money you put in will be received directly in Pakistan and distributed ; I will make sure the help will go to the right persons.
The authors and artists involved already agreed to release some of their copyright, which makes it OK for me to use their work for non commercial fundraising and charity.

Ashar Bazeb Saeed
Download music, movies, etc
to help the Flood relief effort in Pakistan
You like music, you like videos? Instead of getting these from offshore sharing sites, instead of buying your entertainment on expensive proprietary platform, download your music and your movies here. We garantee that 100% of the money you put in will go directly to the people in need. No greedy middle man, right owner, lawyer or company will suck the money out.
It's garanteed a download 100% without DRM. It's generous, and

it's better than free : it's legal

.

This is how it works:

You choose your product in the catalog below
You click on the button proceed to payment, and do your payment
Download the file and enjoy



Choose your item (music, movies…)
and then click below to proceed to payment.
You are allowed to download before you pay.
Notes:
If you want to check the file before you pay, it is OK : you are allowed to download first, and then pay.
Although many of our competitors have a refund scheme for unsatisfied customers, we are sorry to announce we do not have one. If you are not sure about the product, please download and try it before you pay.
You pay the amount you want. If you want to pay 0 (zero), it's also allowed. In which case, go directly for the download, but then, this will not be a big help for the flood relief, is it?
You may meet us IRL (in real life) in Paris or Islamabad, where we can recieve cash or checks (local banks). We stand open for scrutinization and accountability.
Catalog
Music

Music from Pakistan
Selection of Pakistani music, and reading about the country of Pakistan, from World Music on Continental Drift, WREK Atlanta 91.1 FM

Movies

Asian Blog Note # Holy au Pakistan Quelques images pour mieux se rendre compte, lors d'un jour de fête, de la vie dans un petit village du Pakistan… Ces villageois sont Hindous et aujourd'hui ils célèbrent "Holy"…
Movie is in French.

Postcards

7 postcards to print yourself.

Author
Download
Source
Licence
Other format
Flattr
Baptiste Marcel
Single ZIP file,
3 MB
from dunwich.org
Double licencing:

CC-BY-SA
Same as above except: "you may ignore the BY-SA clause if you only use it as a postcard"

click here
Help with other than cash
Cash is more easy to send to Pakistan, but you can help with other than cash.
Donate work of art:
Create copyright-free Pakistan-related work of art we can put here for donwload (with licence authorizing diffusion, preferably CC-BY-SA).
Donate surf time:
Find Pakistan-related work of art we can put here for donwload, with compatible licencing (preferably without NC clause).
Donate work time:
Help us to improve the design of the website

Donate talent:
Repackage the work of arts we offer (except the ones with ND clause) to give them more appeal.
Donate a domain:
We sure would like our own domain name, but we cannot collect money from the fundraising to buy a domain name. So you are welcome to offer to pay for one.
Donate web space:
Domain name is not enough, we need web-space to host the files of the site, possibly big space for our video, music and other files.
Donate geek time:
Help us tu upgrade the availability of these files by putting them in a torrent swarm, then send us the torrent file.
Donnate linguistics:
Translate this page in other languages so other people can reach more people.
Donate visibility:
Propagate our URL in your social networks, recomand us,index us in search engines... Whatever you can do to increase our visibility.
Donate web link:
Propagate our collect, link to us using the banner above. In order to do so : use your browser to view code and copy/paste. There are two parts, one for the HEADER (for the flattr button) and one on the BODY.
Donate credibility:
We expect that only word of the mouth from IRL people to people will bring us donations, because It is unusual for people to donate money to a complete-stranger's website.
If you are famous and credible, you have a blog or some kind of public voice, and if you believe in us, let your friend and public know that we are genuine, and not a scam. We stand open for scrutinization.
Legal notice
Licences
The documents released here are released in conformity with the licence granted by their right owners.
This is not a commercial website. All money that is recieved on this interface is sent directly to the charity collect in Pakistan, except the fee of the money collect and transfer (paypal and Western Union). Although we use cool tag-lines like "platform ", "buy", "sell", "product", "payment", "customers" etc, this is not really a selling. It is just a free download button put in the same web page as a donation button. There are no advertisement, we derive no income of any sort, We will not gain any thing out of this except the satisfaction to help people in need, and possible karma points in the after-life. Yhe money you donate is not a compensation, hence, there is no payment of any monetary compensation in connection with the exchange of copyrighted works. Consequently, we believe it is compatible with the NC clause of the CC licences for the documents released under such licences. If any of the right owners feels differently, let us know and we remove the file.
Contact
Ashar Bazeb Saeed is both editor and director of publication.


Islamabad, Pakistan
Copyrights
CSS code is derivated from and © dreamweavers (PK) all rights reserved.
Text and formatting is © CC-BY-SA Ashar Bazeb Saeed and Baptiste Marcel, details for other visuals are here.

---
Page created 17/08/2010 for Ashar Bazeb Saeed. Last update

28/08/2010 AD

. Donation booth is closed, thank-you for your visit.